As we've rearranged rooms and found the perfect nooks for all the beautiful pieces we discovered this past weekend, we've been reflecting on our 15th anniversary show. The combination of exhibitors, speakers and guests that attended this year truly made for a unique and inspiring event.
One of our favorite moments included, as always, meeting the exhibitors and seeing what wares they brought with them. From vintage pearl and diamond necklaces to restored cabinets from a French pharmacy, there was no shortage of stunning pieces with equally incredible histories. The Designer Walks opened our eyes to hidden gems and the Antiques and Design Academies let us indulge in whatever niche we fancied.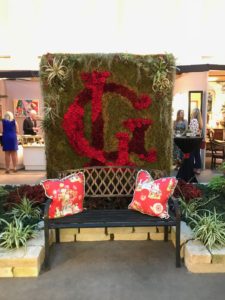 Just as fascinating, was the storytelling and insight of our Lunch and Lecture speakers. Miles Redd shared humorous stories from throughout his career – who would have guessed that his bathroom, the largest room in his house, has been the location-of-choice for a dinner party? Steven Stolman reminded us that a good set of silver will always be an essential and a well-stocked bar is a must. Finally, Matt Stamp urged us to think of wine differently and use all our senses to fully enjoy it.
Most of all, however, we were inspired by you all – our guests. Whether you've been attending since year one, or this was your first experience, we can't say thank you enough. Year after year, you make our show more vibrant and intriguing than the one before.
So, thank you, for spending a portion of your weekend with us and supporting the show. We hope you walked away with beautiful things and even better memories. And if you're like us and already looking forward to 2019, mark your calendars for September 19 through 22. We hope you'll join us again!