Check out the inspiration behind this year's Lauritzen Gardens Antiques Show.
Like any style icon, we know when it's time for an update. After 15 years of curating the most sought-after antique show in Omaha, we are thrilled to unveil our rebranding to attendees. We're still the same unique show you know and love, but we've evolved our brand to appeal to our expanding audience.
Attendees recognize the value in acquiring storied, stylish pieces they won't find flipping through a catalogue. We wanted our updated brand to reflect our community of discerning collectors, so our partner in the rebranding effort – Bozell – took this sentiment into account. A concerted effort to align stakeholders and hone the overall vision of the show in the future resulted in an evolved brand position, voice and monogram.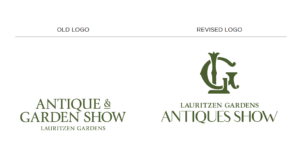 Heather McCain, a senior art director at Bozell, said, "The monogram was created to continue that elegant, upscale feel of the Lauritzen Gardens Antiques Show, while giving us a memorable, distinctive icon that stands out in today's cluttered marketing environment such as social media."
Classic, yet modern, the updated look is a perfect reflection of our balanced aesthetic. If veteran attendees have discovered anything from the Lauritzen Gardens Antiques Show, it's that the most prized antiques aren't always intricate or lavishly decorated – more often than not, the most sophisticated pieces are clean and mindfully designed. Borrowing the wise words of Coco Chanel, "Simplicity is the keynote of elegance."
Our logo will be accompanied by a vibrant color palette ranging from our signature Lauritzen green to playful shades of bright gold, green and coral. "We introduced some brighter and fresher colors to give the brand look a more energetic vibe," McCain added.
As this year's show grows nearer, we cannot wait to reveal all of the aspects of our updated look. We think you'll find that like a fine wine, we're only getting better with age.