What a delight it is to be sharing with all of you on the Lauritzen Gardens blog! I'm Sandy Koepke.  I am an interior  and garden designer and I am hosting my second Antique Academy at the Lauritzen Garden's Antique & Garden Show this fall.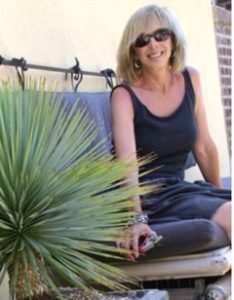 We may have met if you attended the show last year. I hosted an Antique Academy called "Inside Out" where I discussed bringing outdoor rooms to life with antiques and vintage finds. This year, with "Garden Rooms," I'll be speaking on both sides: creating outdoor living spaces and also bringing the outdoors inside. I hope you will be able to attend!
Although I built my career in Los Angeles, I was born in Omaha and lived in Nebraska until I attended graduate school, so I'm no stranger to the four-seasons. And with my recent move back to Omaha, I'm excited to share what I have learned about creating indoor/outdoor spaces with weather like ours.
Most of my inspiration comes from nature. But our climate can be a bully to outdoor living.  As a designer I'm not trying to control mother nature but rather to create an environment by providing comfortable gathering spaces, some protection from theelements…perhaps by adding a little windbreak or some shade that dapples the light. Outdoor furniture and fabrics are more durable than ever, and becoming more stylish.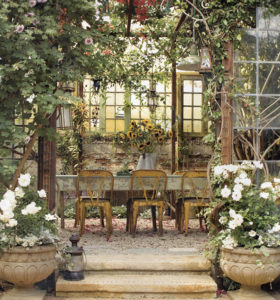 And of course we want some romantic lighting! We want to be comfortable outdoors, not worried about covering everything or taking it indoors.  It's going to get dusty. It's okay. You're outdoors.
And when designing for indoors, my sensibilities are essentially the same. I prefer  using natural materials, pieces that are comfortable and casual, and nothing too precious. I want to maximize natural light when you have it, and create the illusion when you don't. I love using natural fabrics, weathered finishes, architectural salvage, vintage furniture and rust! So be warned, Antique Academy attendees, my goal is to get you all to embrace imperfection. I want you all to leave inspired to enjoy a bit of dust and rust, to find joy in a relaxed approach to design, and to create spaces that are light-filled and lighthearted.
I hope you will check out my website to see a few projects sandykoepkeinteriordesign.com
Hope to see you soon.
Sandy Koepke