2023 Show Raffle
You know that incredible feeling you get when you win a fabulous prize and support your public garden? It's just one raffle ticket away!
Purchase a raffle ticket for a chance to win one of five prizes. Tickets are $25 each or 5 for $100 and may be purchased at the hospitality booth during the Lauritzen Gardens Antiques Show through Saturday at noon. Winning names will be drawn Saturday, September 30, 2023. Patrons need not be present to win.
The 2023 raffle is generously sponsored by 

---
Signed Baccarat Crystal Vesuvius Caviar Set
Valued at $1,175
A luxury, 2-piece crystal caviar serving bowl and chiller designed by Baccarat at the turn of the 21st Century. The chic and minimal design named "Vesuve" features an impressive puffy crystal container for ice and a small, removable upper crystal bowl insert for the caviar. Acid-etched maker's mark on the underside of each piece. Prize includes 2 oz. of caviar and a mother-of-pearl serving spoon. 

Courtesy of Ron Greenwald, Greenwald Antiques
---
Set of 2 CuratedKravet Arley Print Pillows
Valued at $1,100
Lee Jofa's Arley Print was inspired by verdure tapestry fabrics and has been digitally printed and then rewoven in a true warp print construction of linen and cotton. This set of 2 pillows is in the timeless pattern's Lagoon colorway. 
Courtesy of Lee Jofa
---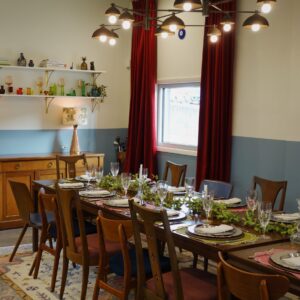 Effortless Entertaining Class
Valued at $1,000
Learn how to create your own signature style for hosting events, whether that is an intimate dinner party or a larger affair. Gain confidence in the kitchen and learn valuable time management skills so you can enjoy your events!  Make some of the favored appetizers, main courses, and cocktails from Heirloom Fine Foods' menu and learn how to create beautiful tablescapes with pieces in your own collection. For up to 8 participants.
Courtesy of Heirloom Fine Foods
---
Lucy Cope Lead Crystal Matchstrike
Valued at $850
An elegant hand blown English lead crystal matchstrike with sterling silver accents is made in England by a team of highly skilled craftsmen. A perfect accessory for any space, crossing the divide between traditional and contemporary requirements, Lucy Cope matchstrikes are adored by world class designers and can be found in the most prestigious homes worldwide. 
Courtesy of The French Tangerine
---
Shop the Show
Valued at $1,000
Win a gift certificate for $1,000 to redeem at any of our featured antiques exhibitors. Find an unexpected treasure, something to complete a collection, the perfect piece of furniture for your space, or just a bit of whimsy to take home from the 2023 Lauritzen Gardens Antiques Show. As a toast to the show's 20th anniversary (and the prize winner), this includes 2 glasses of champagne to enjoy while shopping. 
---
2023 Speaker Book Package
Valued at $300
Continue to be inspired by this year's speakers, long after the show concludes. This package includes copies of "New Classic Interiors" by Alessandra Branca, "Alexa Hampton: Design Style and Influence" by Alexa Hampton, "Design Remix: A New Spin on Traditional Rooms" by Corey Damen Jenkins, and "See You on Sunday" and "The New York Times Cooking: No-Recipe Recipes" by Sam Sifton.
---