2022 Show Raffle
You know that incredible feeling you get when you win a fabulous prize and support your public garden? It's just one raffle ticket away!
Purchase a raffle ticket for a chance to win one of five prizes. Tickets are $25 each or 5 for $100 and may be purchased online in advance of the show. By state law, raffle tickets may be purchased online with a debit card ONLY. Credit card use is prohibited.
Tickets may also be purchased at the hospitality booth during the Lauritzen Gardens Antiques Show through Saturday at noon. Winning names will be drawn Saturday, October 1, 2022. Patrons need not be present to win.
The 2022 raffle is generously sponsored by 

---
Ultimate Chanel Package
Valued at $2,000
This package includes a vintage Chanel scarf, a Chanel-inspired needlepoint tray and needlepoint box, and a one-of-a-kind necklace. 

Courtesy of Amber Gard, Ellie Grace, and Sharon McGill 
---
Champagne and Caviar
Valued at $1,800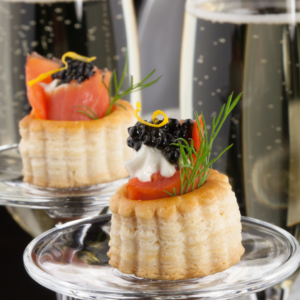 Enjoy a champagne and caviar tasting for up to 12 at Heirloom Fine Foods
Courtesy of Heirloom Fine Foods
---
Strike A Match
Package valued at $1,393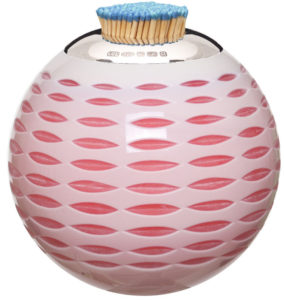 Lucy Cope Matchstrike
An elegant hand blown English lead crystal matchstrike with sterling silver accents is made in England by a team of highly skilled craftsmen. A perfect accessory for any space, crossing the divide between traditional and contemporary requirements, Lucy Cope matchstrikes are adored by world class designers and can be found in the most prestigious homes worldwide. 
Courtesy of The French Tangerine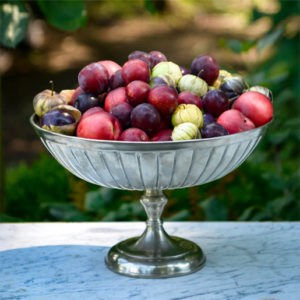 A Roman Centerpiece by MATCH Pewter
A pewter masterpiece, this large bowl steals the show. Handmade by artisans in Northern Italy, its classic forms harmonize with both traditional and modern settings, recalling celebrations at well laid tables. This piece adds a beautiful touch to the center of any table or kitchen island. Great on its own or filled with fruit or flowers! 
Courtesy of Borsheims Fine Jewelry & Gifts
---
Shop the Show
Valued at $1,000
Win a gift certificate for $1,000 to redeem at any of our featured antiques exhibitors. Find an unexpected treasure, something to complete a collection, the perfect piece of furniture for your space, or just a bit of whimsy to take home from the 2022 Lauritzen Gardens Antiques Show. 
---
2022 Speaker Package
Valued at $500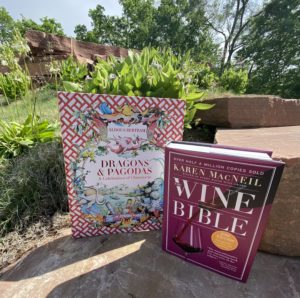 Continue to be inspired by this year's speakers, long after the show concludes. This package includes copies of "The Elegant Life: Rooms That Welcome and Inspire" by Alex Papachristidis, "Dragons and Pagodas: A Celebration of Chinoiserie" by Aldous Bertram, and "THE WINE BIBLE" by Karen MacNeil plus a bottle of each of the featured wines from Sunday's tasting.
---