The start of the Lauritzen Gardens Antique & Garden Show brings a new level of truth to the phrase TGIF.  September 15 is a Friday we've been anticipating for months now, and if you've taken a look at the schedule, we have a feeling you've been looking forward to this particular Friday, too. Here's more about what's in store.
DESIGNER MORNING WITH SCHUMACHER FABRICS
10 – 11 a.m. Complimentary for the Design Industry.
Have you ever flipped through a design magazine, stopped, stared with shock and awe, and said, "Where did they find that wallpaper?!" The answer? Probably Schumacher Fabrics. The family-owned company carries everything from stunning wallpaper to fabric and furniture. Curating every piece with a careful eye for style, taste and innovation, their collections balance respect for classicism with an eye for cutting edge design. Start your day inspired with Schumacher Fabrics.
DESIGNER WALK
10:30 – 11 a.m.
Unfortunately, Friday and Saturday's Designer Walks are sold out. Spots are still available for Sunday's walk, however, so be sure to reserve your spot now! Contact Tim Gorham at 402-346-4002 x 211.
LUNCH & LECTURE
11:30 a.m. – 1:00 p.m. Reservations required. $75 General Luncheon Ticket, $125 Patron ticket with premium seating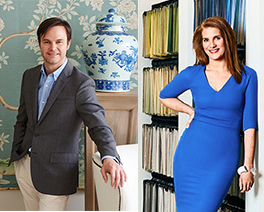 Design professionals Mark D. Sikes and Sophie Donelson will dine with lunch and lecture attendees and share their expertise. While the event is already sold out, Mark D.Sikes' new book, "Beautiful: All-American Decorating and Timeless Style," and Sophie Donelson's new book, "House Beautiful Style Secrets: What Every Room Needs," will be available for sale online and at the Garden Market on Sunday.
Even better, we're the first people to sell Sophie Donelson's new book. We even beat Amazon. So, you can be one of the first to pick up a copy!
ANTIQUE ACADEMY: FEW OF OUR FAVORITE THINGS
This educational 30-minute session is free with admission to the Antique & Garden Show.
Antiquing has long been a family affair for Ron Greenwald and Robin Greenwald-Gilbert. Their mother, June Greenwald, opened her business in 1959 and after
retirement, passed the business to her twin children, Ron and Robin. Over the years, they've worked with esteemed artists and designers such as Cartier, Carl Fabergé, Demetre Chiparus and Paul Evans, to name a few. They'll kick off the first of our Antique Academies with "A Few of Our Favorite Things," a show that travels from 18th century Japan to 20th century France. As second-generation dealers and twins, their passion for collecting and finding unique pieces is unparalleled.
ANTIQUE ACADEMY: THE ART OF MODERN MIXING
This educational 30-minute session is free with admission to the Antique & Garden Show.
Prefer to keep things fun and funky? Make your way to this Antique Academy! Mindy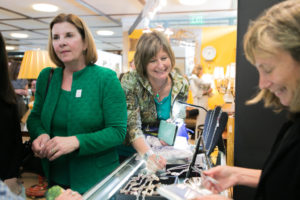 Baschnagel joins us from Redefined Décor, a stunning showroom in Chicago with an affinity for eclectic mixes. The three owners of Redefined Décor, Bonnie Stern, Mindy Baschnagel and Martha Peck, have over 50 years of combined experience sourcing antiques and vintage pieces. In other words, they know a thing or two. Baschnagel will walk attendees through mixing eras, furnishings, accessories and art to create a look that's personal and intriguing.
Attend one or attend them all, there's no doubt that the start of the show will kick off a weekend of inspiration for us all. We'll see you soon!