Over at Lauritzen Gardens we believe in Sunday brunch, so the day's line-up will have all of your favorite Sunday brunch staples. Mimosas? For sure. Professional cooking demonstration? Absolutely. And of course, mingling with new and old friends, exquisite antiques and a stroll through the garden and Garden Market. Here's the line-up:
GARDEN MARKET
10 a.m. – 2 p.m.
On Sunday only, five fantastic vendors will be featured at the Garden Market. Some are our own Omaha artisans, and others have travelled cross-country to join us for the day. If you find yourself drawn to any of the following, you'll want to attend: custom design using natural elements, books, gardening, orchids and peonies. Intrigued? Learn more about these vendors in our Garden Market post.
DESIGNER WALK
10:30 – 11 a.m. Reservations required. Included with show admission.
Take a walk in a professional's shoes … or at least in their footsteps. Our new-to-show Designer Walk is a unique opportunity for you to tour the show with a designer as they discuss pieces they admire and how they would incorporate them into their home and décor. Tours are just 30 minutes, so it's the perfect way to get a thorough look at all the show has to offer and not miss any hidden gems. But be sure to make your reservation as soon as possible! The walks have been incredibly popular and spots are filling fast.
MIMOSA SUNDAY
11 a.m. – 5 p.m. While supplies last.
What better way to browse the show than with a complimentary champagne cocktail in hand? Many thanks to our sponsor Beardmore Subaru for providing this treat.
THE GARDEN MIXER
11:30 a.m. – 1:00 p.m.
Remember our love for Sunday brunch? Well, we brought in the best just for you. Sunday's luncheon will feature Chef Grant Hon of Omaha Steaks and mixologist Tyler Fry. Hon is currently Executive Chef and Culinary Services Manager for Omaha Steaks and has over 15 years of experience in the industry. Fry spent six years in the Chicago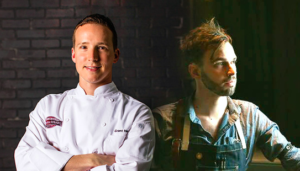 bar scene working at the world-acclaimed Violet Hour before opening the new Spilt Milk Tavern in Logan Square. These two are masters of their craft and a duo you won't want to miss. And come curious, they'll be answering questions from the crowd.
ANTIQUE ACADEMY: A PAINTING WITHIN A PAINTING
1:30 – 2 p.m.
Finally, pique your interest with Ken Kelleher's Antique Academy "A Painting Within a Painting." Kelleher started Kelleher Fine Art in 1990 and has become one of the West Coast's pre-eminent dealers in 19th and early 20th Century European Art. During his Antique Academy, he'll reveal secrets hidden in the layers of Dutch paintings and show us that there really is, more than meets the eye. Art guru? Mystery fanatic? This one's for you.
That's a wrap! As we move toward the end of this year's show, we're excited to share one last day full of extraordinary events and talent with you. We hope you have a weekend filled with great friends, great finds and endless inspiration.