Once a year, Omaha's Lauritzen Gardens transforms into one of America's best boutique antique shows featuring exhibitors with everything from home and garden furnishings to impressive works of art, fine and costume jewelry and numerous items of intrigue.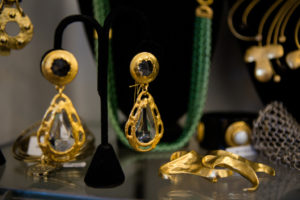 How do I know? For over 20 years, my husband and I have been managing some of the most important charity antique shows in the country. Every September we are in Omaha amid the breathtaking gardens, and the show never ceases to amaze and inspire.
Putting together an event like this takes time and an army of dedicated volunteers who regularly travel the country—and the world—in search of special exhibitors and speakers. These volunteers are eager to share what they see and learn at other events and how it influences Lauritzen Gardens' annual show.
Unfortunately, most of us can't travel internationally whenever we want to shop and learn first-hand from antique and design experts. But that is the beauty of the annual Lauritzen Gardens Antique and Garden Show. Whether you're an interior designer remodeling a client's living room, a history or culture buff, or someone looking for a unique piece for your home, you will find the same experiences and one-of-a-kind pieces right here in Omaha.
We all like to make personal statements about who we are through the things we wear and how we decorate our homes. Events like this awe-inspiring show enable you to do just that. Every piece has a story, a special history, and when integrated into your life, it becomes part of your unique vision.
So, as you begin preparing to attend the show in September, I would like to take this moment to share some finds from past shows.

This wonderful collection of wooden cookie boards was assembled by one of the Antique & Garden Show's annual supporters. The wooden boards' decorative function was born out of a utensil designed in the 18th and 19th century, and this offers a rare glimpse into the popular culture of the time. The boards were artfully carved by hand. Like the greeting cards and cartoons of our century, "cookie messages" announced births and weddings; commemorated important holidays; and reflected local news, characters, politics, proverbs, jokes and even love messages.
This collection of carved wood makes a wonderful backdrop as an accent wall in a contemporary home. The collection has grown over time and continues to grow as another wooden board is discovered. Its thoughtful arrangement on the wall highlights their simple design.
Collections are wonderful because they do not demand an immediate investment. Over time, they can grow from a single item you love into a complete presentation.
The dealers at the Lauritzen Gardens Antique & Garden Show are passionate about their business and feel personally invested in each piece on display. They love nothing more than chatting with attendees about specific pieces or collecting ideas. Additionally, Omaha has become one of our antiques exhibitors' favorite destinations for outstanding dining and hospitality, so they may pick your brain for fun 'standout' restaurants to add to their list.
Leading up to the show, we'll be bringing you the latest news and expert views on antiques and vintage home furniture and accessories, fine art paintings, prints, and posters, fine and vintage costume jewelry, and more. We'll also be bringing you a glimpse into what to expect September 14-17.
– Sandy Wainwright